Tesla 1-Piece Sunshade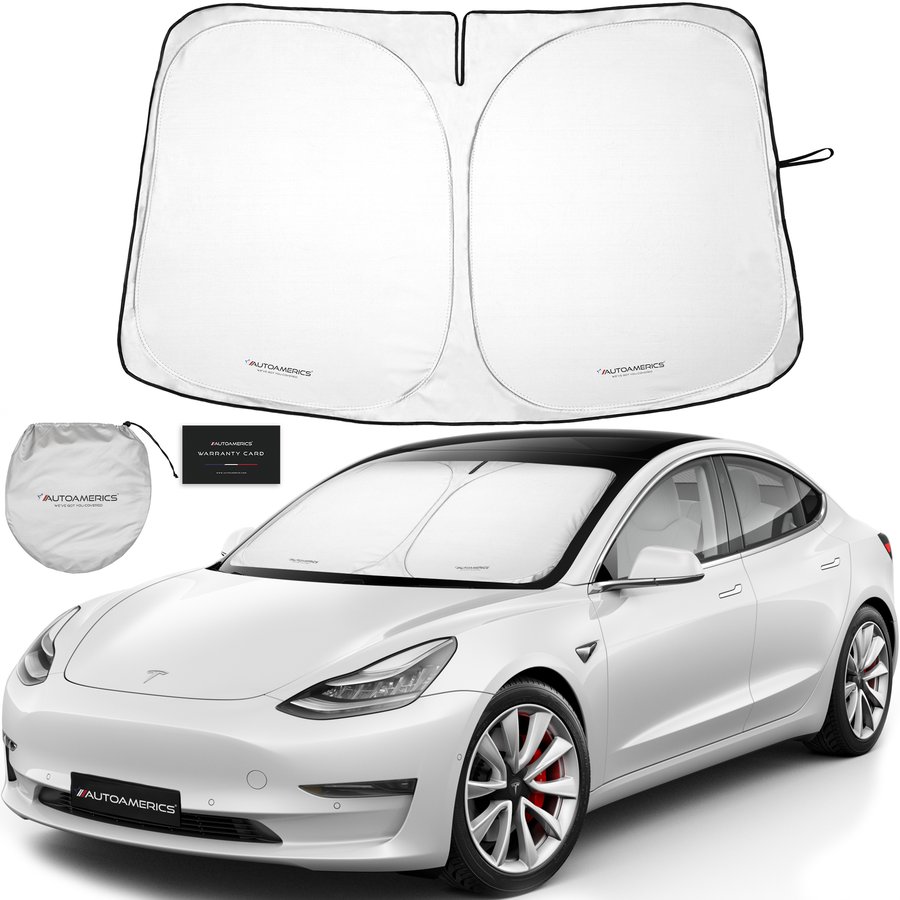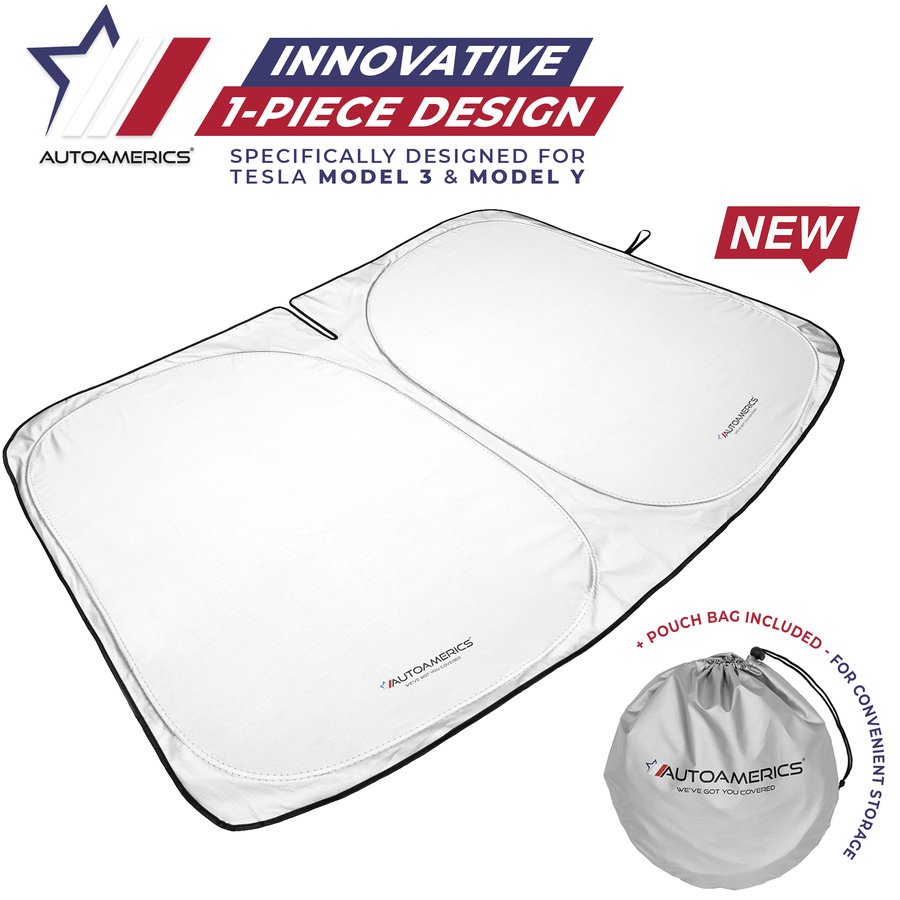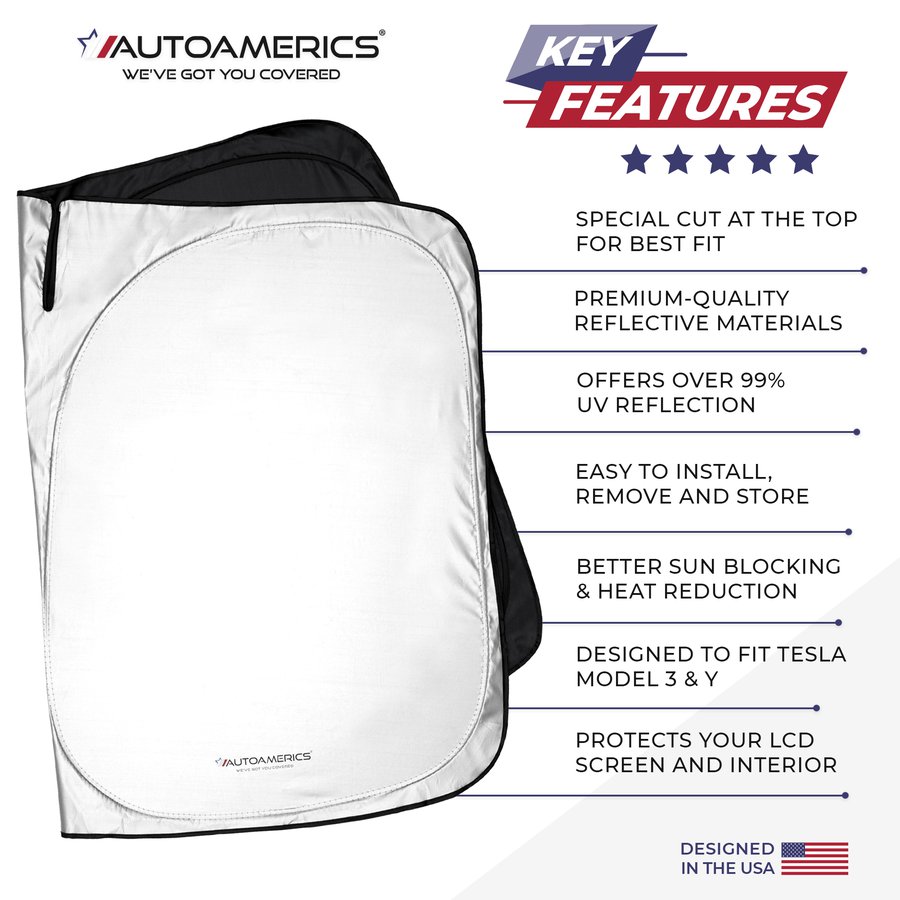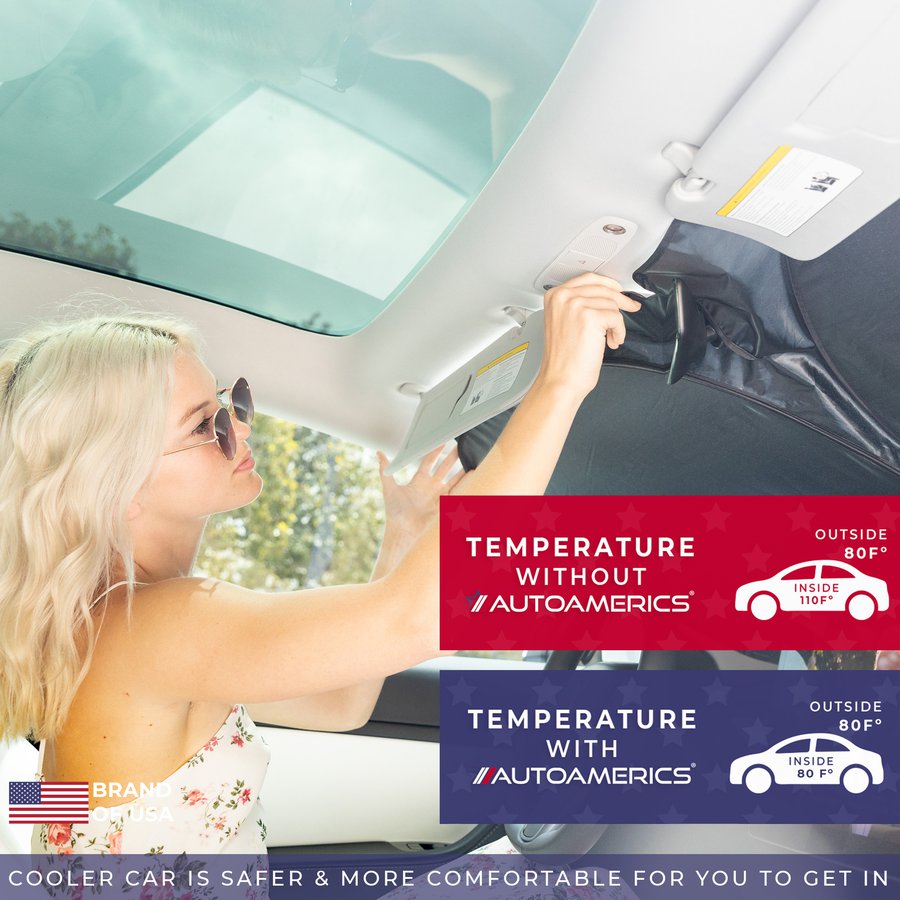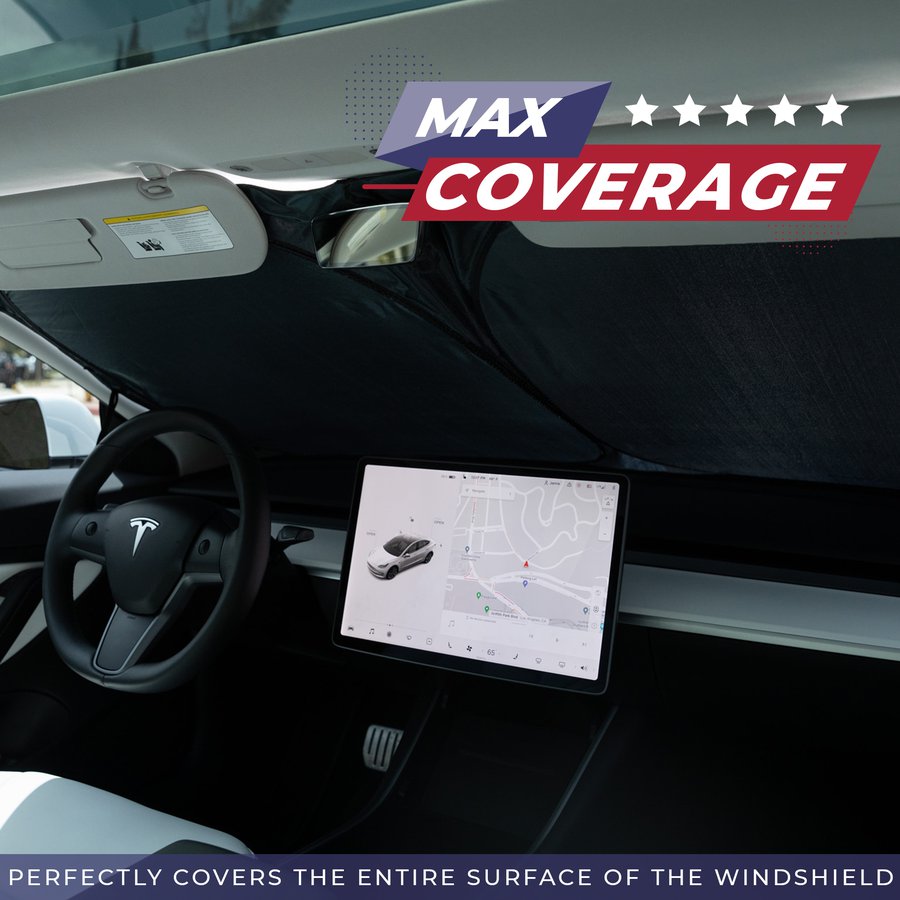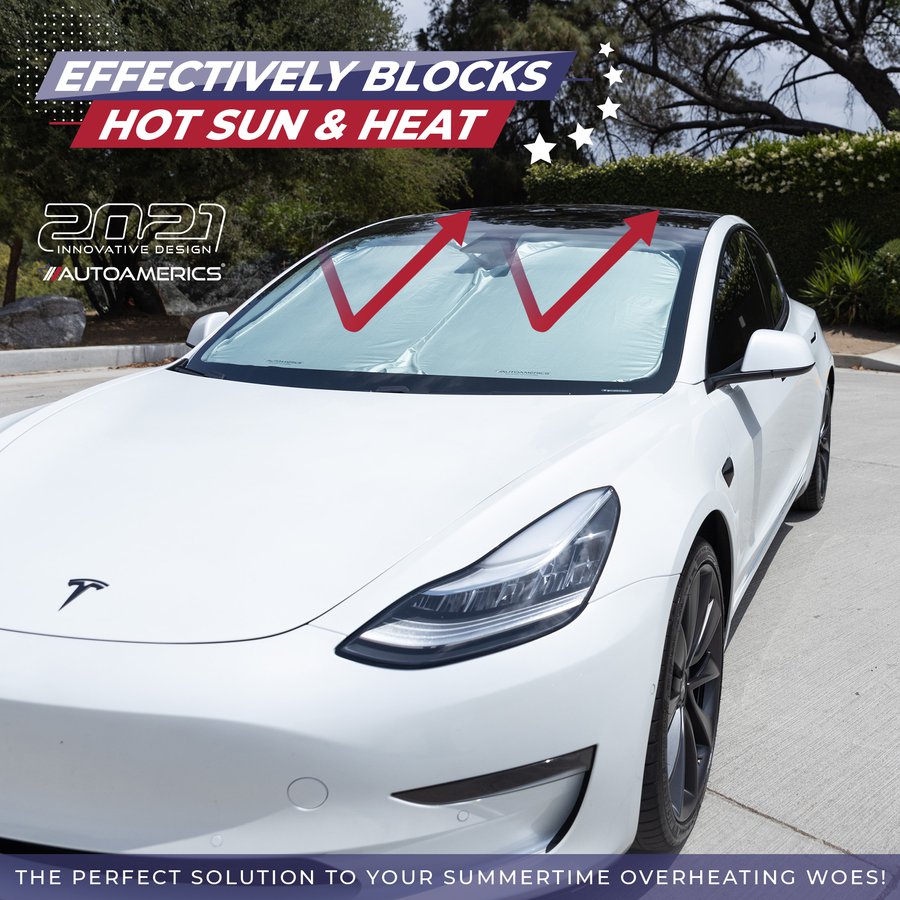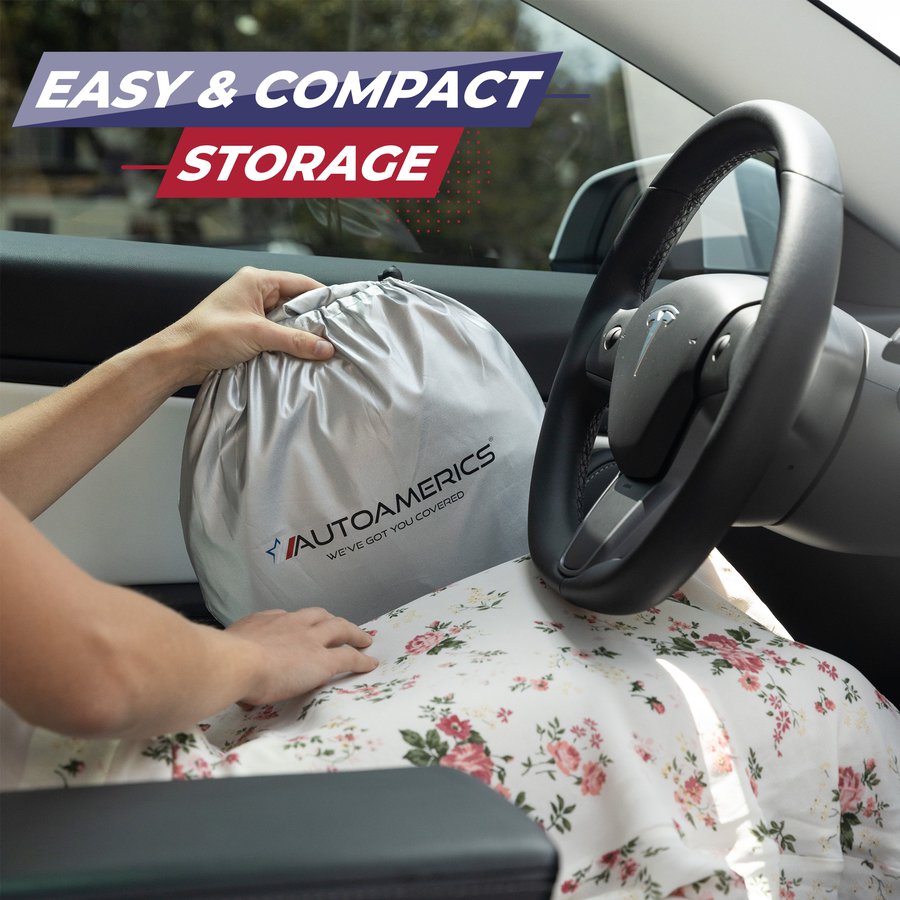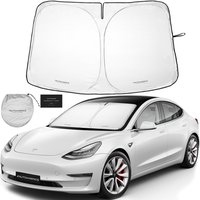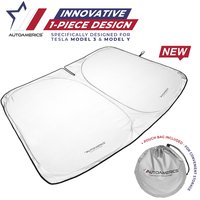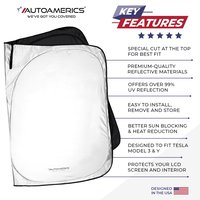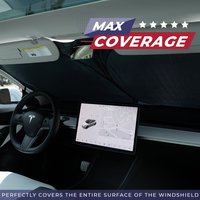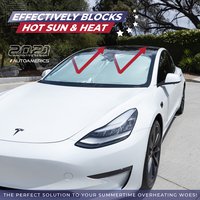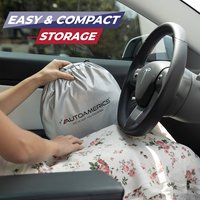 TESLA
Autoamerics 1-Piece Windshield Sunshade Specially Designed for Tesla Model 3 and Y. It fit perfectly and cover the entire surface of your windshield, which ensures the best possible protection.
Features
Designed to keep your vehicle's interior cool and comfortable.
The sun shade is made from premium-quality reflective materials.
Offers over 99% UV protection and sun reflection.
Specifically designed for Tesla Models 3, S, X
Can be installed and removed within seconds.
Size Chart
PLEASE NOTE: THIS AUTOAMERICS SIZE CHART IS BASED ON THE APPROXIMATE WINDSHIELD HEIGHT AS THE WIDTH CAN BE ADJUSTED BY OVERLAPPING SHADE AS NEEDED. WE CREATED THIS SIZE CHART THROUGH NUMEROUS AND CONTINUOUS CUSTOMER FEEDBACK, WHICH WE CONSIDER AS THE BEST PRACTICE APPROACH. HOWEVER, WE STILL SUGGEST MEASURING THE WINDSHIELD BEFORE THE PURCHASE. THANK YOU!
Instructions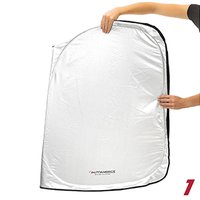 Fold Sunshade in Half
Align shades circles together and hold with one palm facing yourself and the other palm facing away from you.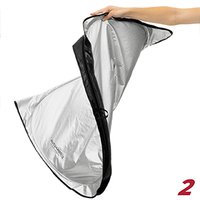 Twist It Slightly
Twist it in a figure-eight pattern and overlap the two hoops.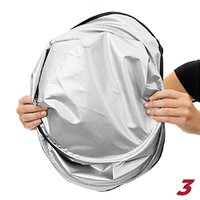 Fold It Gently
Hold it tightly with the elastic strap to secure it in place.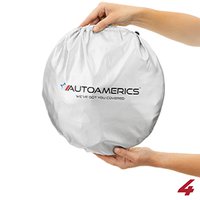 Store in Pouch
Hold the shades with one hand and slide the shades into the storage bag. Done!
Reviews
Quality product
Amazon Customer on 24 Jun 2020
Easy and convenient!
Sun block
Laura on 24 Jun 2020
Love these. Beat purchase.
Perfect for those rainy days
Norry on 24 Jun 2020
So often it's just pouring sunshine and these are great for keeping those rays from leaking through the windshield.
Ir works.
Heading South on 23 Jun 2020
It works.
Fits F150 truck
Cajun Boy on 23 Jun 2020
Fits my 2013 F150 perfectly. Easy to fold and store.
Works great and protects well for most. Double check the fitting tho.
Brosef on 23 Jun 2020
Works great and fits my wife's Ford Explorer perfectly. Doesn't fit my Silverado very well. The advertised size for the Silverado is too small so the fitment is pretty off but otherwise I would get again but I probably would not trust the sizing chart as it is not as big as they said it was. However there was a bonus to watching my wife try and fold them up for the first time. I had no idea I would get entertainment with it. 😂😂
Works great in my Toyota Sienna
Patrick on 23 Jun 2020
Fits well , lightweight and folds up and goes back in the bag easily. Must buy for minivan owners
It works!
Amazon Customer on 23 Jun 2020
Excellent! My car is so much cooler under the heat of Texas. I'm glad I found this product!
Good product
Elizabeth J Lohmeyer on 23 Jun 2020
Bought 3 sets of these for my family. We are all happy with the purchase. I like that it comes with a storage pouch to keep it clean.
large enough to cover.
Judy Ortega on 23 Jun 2020
The shades are large enough to cover my big windshields
good car protection
Julio on 23 Jun 2020
The product is as described and the communication with the vendor was great, I would order from them again. Thanks
Works better than the others I have bought
William E. Brandt on 22 Jun 2020
Highly recommended
Does the job
San on 22 Jun 2020
Blocks the sun
Will buy your products again!
marguerite cowart on 21 Jun 2020
Great product! Excellent quality!
Quick easy installation and stowing!
Derek C. on 21 Jun 2020
Great price easy to use and quick easy stowage. Great Value!
Good
caleb anderson on 20 Jun 2020
Works as it should. Plus it's American made.
Sizing is critical
John Carper on 19 Jun 2020
Recommended x-large is really too large for our 2017 Ford escape. Length is OK but too wide. Hard to fit around the center mirror when putting the 2 pieces in place.
Awesome product
Josie smith on 18 Jun 2020
Easy to use
Excellent s unn and temperature protection
Ken H. on 18 Jun 2020
Count me a very satisfied user. Would highly recommend.
Great sun protection
Scott K. Russell on 18 Jun 2020
Great sun protection. Easy to install and store. Looks good.
Versitility
Thomas Silva on 18 Jun 2020
Everything fits perfect. Keeps the steering wheel from frying my hands.
Great product
lavi on 18 Jun 2020
Great! Love how easy it is to to fold and put away for easy access
Definitely Recommend
America on 18 Jun 2020
This fits my ford escape like a glove. Super easy to fold. I've bought some at walmart that were impossible to fold, but these babies are.amazing
Keeps my van cooler!
kgals on 17 Jun 2020
Fits my large Sienna van windshield perfectly. Folds easily and stores nicely between the passenger seat and console. Definitely keeps the van cooler- no more burning my fingers on the steering wheel!
Great protection!
Jeanne M on 17 Jun 2020
They were a bit bigger than I thought they would be. I had to turn them so they would fit properly, which was suggested on the website. I love them. They are easy to use.
Great purchase
Monica on 17 Jun 2020
Works great for our Arizona sun. This is the third one I've purchased for our multiple cars. Two I've had for over two years and still like new.
Great shades
M Soles on 16 Jun 2020
Easy to fold away & place over my Van window. This is my second set to purchase. Fabulous - love them.
Good
Daniel Lee on 16 Jun 2020
Good
Accurate Sizing
David N. on 16 Jun 2020
Fits well and simple to fold!
Goid that you include the instructions on how to fold, thanks.
Amazon Customer on 16 Jun 2020
Put it on my Subaru Forester Sport! Great fit!
Very nice!
S. Frye on 16 Jun 2020
I love this thing! I'm left handed, so it took me a few tries to realize I was folding it the lefty way.. Once I figured out how to fold it the "correct" way, it was simple to fold up and put away. So if you're a lefty, just fold it the opposite way that feels comfortable to you 😊This fits my Hyundai Tucson beautifully! Looks really sleek! Very fast delivery and a great product so far!! I love it, thank you!
Great Product!
Amazon Customer on 15 Jun 2020
Fast shipping! Fits my Audi Q7 windshield. Great for the hot summer
Is there a secret to folding these things?
Amazon Customer on 15 Jun 2020
Just what I needed and expected...except I can't get the damn things folded!!! Had a set a few years ago and they folded like a dream!
Work really well.
Sarisack on 15 Jun 2020
This is the third brand of sunshades I have tried recently. At last, a set to fit my car, fold easily with just a flip of the wrists, and work really well at keeping down the heat from the sun. The video helped a lot, too. My car is a 2017 Ford Escape Titanium and I do have to lower my visors over them, but that just makes the blocking of the rays more complete. They are made well and I expect them to last for a very long time. Thanks.
Good value
Kim Michael on 15 Jun 2020
Only takes a second to use. Easy to store. Inexpensive.
Strong Sun Shades
TSD on 14 Jun 2020
Excellent product...Sturdy and easy to fold...Buy with confidence
Super satisfied product
Calvin on 14 Jun 2020
I purchase these sunshades for my 2012 Scion tC, they are a tad bigger than expected but they definitely keep my car at least 20 degrees cooler than outside. It's great for California's hot summers!
Easy to use.
James McGinnis on 14 Jun 2020
Works well and very easy to use.
Auto Sun Protection
CZ. on 13 Jun 2020
These are awesome car windshield shades. The design provides great coverage. They are so easy to place in and take out of the windshield. They reflect the sun well. We are extremely happy with this purchase.
I like it.
Haewon Shin on 13 Jun 2020
I'm expecting not to make my car piping hot!
Works well
Ju_juboo on 13 Jun 2020
Works really well against the sun
Easy to put up and easy to take down and store
Rocky on 13 Jun 2020
I like the product.Easy to use.
Helps keep dash out of sunlight
Michael Anderson on 13 Jun 2020
Keeps car interior out of sun
A good product so far
Vispi Mistry on 13 Jun 2020
Only used once...took 2-3 mins to fold
Keep car extrmely cool
D G on 13 Jun 2020
Love the shades. They fit perfectly and dark enough to keep the car extremely cool.
EXCELLENT QUALITY
Cidsta on 12 Jun 2020
Very sturdy material, easy to fold. Fit my 2012 Tundra perfect
Good Buy
Alisha Georg on 12 Jun 2020
Product was bought for my GMC Yukon. I purchases the large size shields per the manufacturer's size chart. The shields are not an exact fit to the windshield. I find there are still small openings that light comes through. They do however do the job. They are fairly easy to fold up once you get the hang of it and small enough to easily store inside my car.
As expected.
Lori on 12 Jun 2020
As expected.
Cooler car...
Jeanne L on 11 Jun 2020
These shades keep my car cooler...the steering wheel does not get hot! Thank you
Great quality!
Mary Catherine on 11 Jun 2020
This product is fantastic! I had a difficult time finding a good sun shade. This is 2 pieces & can be fitted perfectly to many vehicles. I thought it might be hard to use but it is so simple. When you get back in the car you just give a twist & it folds up & fits back in the sack it came in & I put it between the seat & the console. Completely out of the way! I love it!